Covid-19 at the ProgrammerJen Office
Unless you've been living under a rock the last month, we all are experiencing an unprecedented time in our country. There's a lot of craziness happening, a lot of fear, and a whole lot of uncertainty and I know many are quite concerned. It's easy to forget during this "social distancing" that we are not all alone, we have each other and we need to remember that and come together.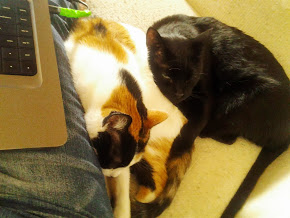 Do your part, reach out to your elderly or disabled family, friends and neighbors, make sure they have what they need. Let's drop the rudeness and selfishness that has been so common lately and be kind to each other. If this experience teaches us one thing, let it be love for our fellow mankind. Forget all of the political fighting, the racial tensions, and the "me, me, me" attitudes…and let's work together to put our country back together.
I will be offering free basic one-page websites to local small businesses to help them recover from the economic impact of reducing and/or shutting down. It is only through working together as a community that we can not only survive but grow and be better than ever.  I encourage all small businesses to find ways to work together to help each other and to make life easier for each other. Together we are bigger than any virus!
And a little funny for you, as you can see my assistants, Ginger Kitty and Bubba Beast are just not grasping the concept of social distancing.